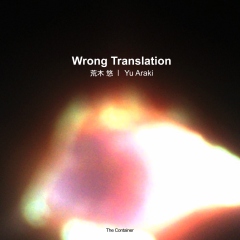 Yu Araki: The Container's catalogue
Purchase directly here
Authored by The Container
Illustrated by Yu Araki
Introduction by Shai Ohayon
Contributions by Yu Araki, Noriyuki Kiguchi, Megumi Ishikawa
Translated by Masamichi Tamura, Yu Araki, Eleanor Goldsmith
A fully bilingual catalogue (English/Japanese) for an exhibition of the Japanese video/film artist Yu Araki, at The Container, Tokyo.
The catalogue explores in writings and images Araki's practice and the exhibition "Wrong Translation," featuring a video installation inspired by Araki's recent residency in Santander, Spain, summer 2013.
The video installation, entitled "ANGELO LIVES," makes references to Shusaku Endo's novel "Silence" (1966), and fictitiously narrated by Anjiro, a Japanese convicted murderer who fled Japan to the Malaysian state Malacca in the 16th century, returning later back to Japan with Saint Francis Xavier and two additional Jesuits, as an interpreter, in what is documented as the first Jesuit mission to Japan. The installation also forges false connections between the spread of Christianity to the new world and the export of olive oil.
The Container, as the name suggests, is no more than a constructed shipping container (485x180x177cm) in Nakameguro, Tokyo. The exhibition space, the brainchild of Tokyo-based curator Shai Ohayon, invites Japanese and international artists to make site-specific installations four times a year. Each installation remains on view to the public for two-and-a-half months. www.the-container.com
Publication Date: Feb 24 2014

ISBN/EAN13: 149605122X / 9781496051226

Page Count: 92

Binding Type: US Trade Paper

Trim Size: 8.5″ x 8.5″

Language: English

Color: Full Color with Bleed

Related Categories: Art / Digital