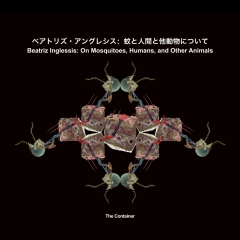 Beatriz Inglessis: The Container's catalogue
Purchase directly here
"On Mosquitoes, Humans, and Other Animals" is a fully bilingual (Eng/Jap), full colour, art catalogue for the Venezuelan artist Beatriz Inglessis's exhibition, of the same title, at The Container exhibition space in Tokyo.
The exhibition is the fruit of a collaboration setup by The Container's curator, Shai Ohayon, with a philosopher (S. McCullagh), an education specialist (R. Jackson), and the artist, to investigate the relation between medicine/science, education, and contemporary art practices.
The catalogue highlights Inglessis's recent series "The Educational," a selection of paper works, inspired by medical and anatomical imagery, while focusing on the sculptural paper installation "Vector" which was at view at The Container 14 January – 31 March 2013.
The catalogue consists of an introduction on the collaboration and Inglesiss's practice by the curator Shai Ohayon; an essay on art and medicine, and an interview with artist by the art writer Peter Yeoh (Tokyo/New York editor for Glass Magazine); an introduction on art education and lesson plans by Renee Jackson (Concordia University, Canada); a philosophical intervention by Suzanne McCullagh (Guelph University, Canada); excerpts from the correspondence between the project's collaborators; full colour plates of Inglessis's works photographed by James Bingham; and Japanese translation by Yuriko Yamaguchi (Sophia University, Japan).
Publication Date: Jan 03 2013
ISBN/EAN13: 1481876694 / 9781481876698
Page Count: 104

Binding Type: US Trade Paper

Trim Size: 8.5″ x 8.5″

Language: English / Japanese

Color: Full Color with Bleed

Related Categories: Art / Caribbean & Latin American
Out of stock