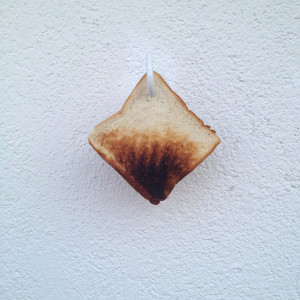 Home Slice
Nadja Solari, 2013
Limited edition of 10, comes with a certificate signed & dated by the artist.
This piece is specially toasted and preserved for you and consists of bread, lacquer and a display hook. The mounted piece measures 11.5 x 13 x 5.5 cm / hook: 80mm long, 5mm diameter. The piece, inspired by the artist's fascination by everyday life objects and the ephemeral, as well as her long-standing employment of ready-mades, uses humor and absurdity to facilitate a visual language.
Nadja Solari is a Swiss artist based in Basel and exhibits internationally.
10 in stock