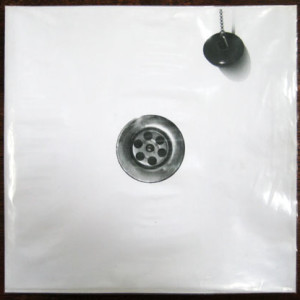 Coriolis
Ami Clarke, 2009
Limited edition of 35, signed by the artist.
A vinyl record (6.56 mins both sides), with original card sleeve.
The work Coriolis relies on the misconception known as 'coriolis'; the idea that water whilst draining, turns in different directions dependent on whether sited in the southern or northern hemisphere.
Existing in material form as a dubplate recording of water draining in the northern hemisphere, hence anti-clockwise, the turntable, playing the dubplate clockwise, effectively eliminates the recording.  Dubplates have very limited durability – they begin to lose the sound quality after 30 or so plays and are completely eliminated after approx 1000.  What remains, a token almost of the artwork, is the empty vinyl disc.  Equator coinage, maybe.
Ami Clarke is London-based British artist who also runs the project: Banner Repeater, a reading room and project space on Platform 1, Hackney Downs train station, London.
Her work is concerned with structures of meaning, and the semiotics of everyday life, and what kind of representation could possibly articulate the complexities and contradictions of life working as an artist today. www.amiclarke.com
34 in stock
SKU:

11043
Tags: Ami Clarke, banner repeater, British art, Contemporary Art, coriolis, multiples, records, sound installation, The Container, Tokyo, vinyl