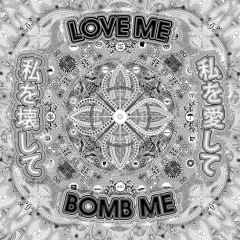 Pedro Inoue: The Container's catalogue
Purchase directly here
Authored by The Container
Illustrated by Pedro Inoue
Contributions by Shai Ohayon, Maekita Miyako, Yoshitaka Mouri
Translated by Yoshitaka Mouri, Yuriko Yamaguchi
"Love Me, Bomb Me" is a fully bilingual (Eng/Jap) exhibition catalogue for a site-specific installation by the Brazilian artist Pedro Inoue at The Container, Tokyo (www.the-container.com).
Inoue has shown his works in Korea, Japan, France and the UK, and collaborated with clients such David Bowie, Damien Hirst, and Ryuichi Sakamoto. For the last few years, he has been working also as the creative director of the socio-political magazine AdBusters. In all of his work, though, whether commercial or artistic, one can still find his unrelenting criticism of the world we have created.
For The Container, Inoue pastes the entire insides of the physical exhibition space (walls, ceiling, and floor) with textures, optical forms and his Mandalas designs, constructed from thousands of recognisable logos, to recreate the interior of the space. It is a sculptural installation of sorts, even though it lacks any three-dimensional objects. Inoue creates an environment in which the observer is forced to interact with the installation, a coerced performance art, where the visual, optical, and psychological impact on the viewer are the piece itself.
Although immaculately planned and designed, the printing itself is inexpensive and the tiling is rough, devaluing the idea that contemporary art ought to be expensively produced. The actual "paste up" technique he employs, using wallpaper paste, also recalls street art paste ups one would see in urban landscapes, and reinforces the connection of the work with the politically driven street art for social change movement of the last couple of decades.
Publication Date: Jun 12 2014

ISBN/EAN13: 1499785860 / 9781499785869

Page Count: 92

Binding Type: US Trade Paper

Trim Size: 8.5″ x 8.5″

Language: English

Color: Full Color with Bleed

Related Categories: Art / Art & Politics