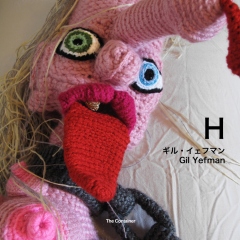 Gil Yefman: The Container's catalogue
Purchase directly here
A fully bilingual (Japanese / English) catalogue for an exhibition of Gil Yefman, entitled "H," at The Container in Tokyo.
The catalogue explores through writings and images the relation between sexuality and WWII and focuses on Block 24, an isolated unit in the concentration camp of Auschwitz that was used as a brothel, forcing female workers into sex-slavery.
Gil Yefman is an Israeli artist exploring gender, sexuality, religion and the collective Jewish memory through a wide range of disciplines. His main medium of work is knitting, which he uses to produce complex, colourful, and child-like sculptures. His works are amusing and fun-like, while secreting potent and unforgiving themes. He has exhibited extensively in Israel and abroad. "H" is his debut exhibition in Japan.
Publication Date: Aug 05 2013
ISBN/EAN13: 1491277831 / 9781491277836

Page Count: 82

Binding Type: US Trade Paper

Trim Size: 8.5″ x 8.5″

Language: English / Japanese

Color: Full Color with Bleed

Related Categories: Art / Individual Artists / Monographs
Out of stock